How do I share a ticket with my friends and family? Follow
We have made it easy to transfer a ticket to friends and family members.
STEP 1
To start the transfer process open the ticket wallet within The Hundred App and log in.
Make sure you are on the latest version. It looks like this: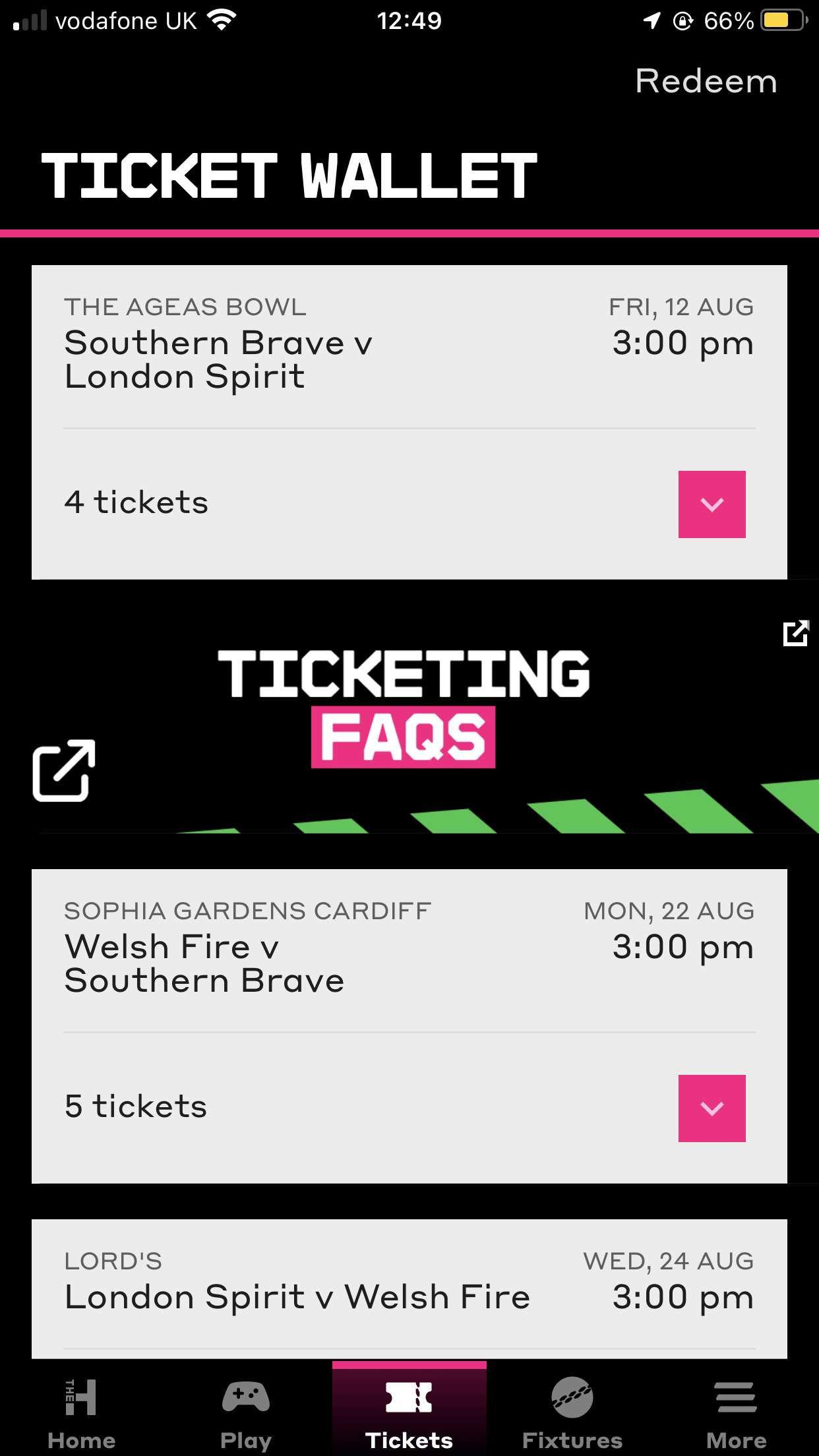 Can't see your tickets? Click here.
STEP 2
Tap into your tickets so you can see one single ticket. It will always be the first one from this collection of tickets.
Select the ticket that you want to transfer by moving through your tickets by clicking pink arrows or swiping right/left.
Your ticket should look similar to this, but with the ticket number and QR code visible.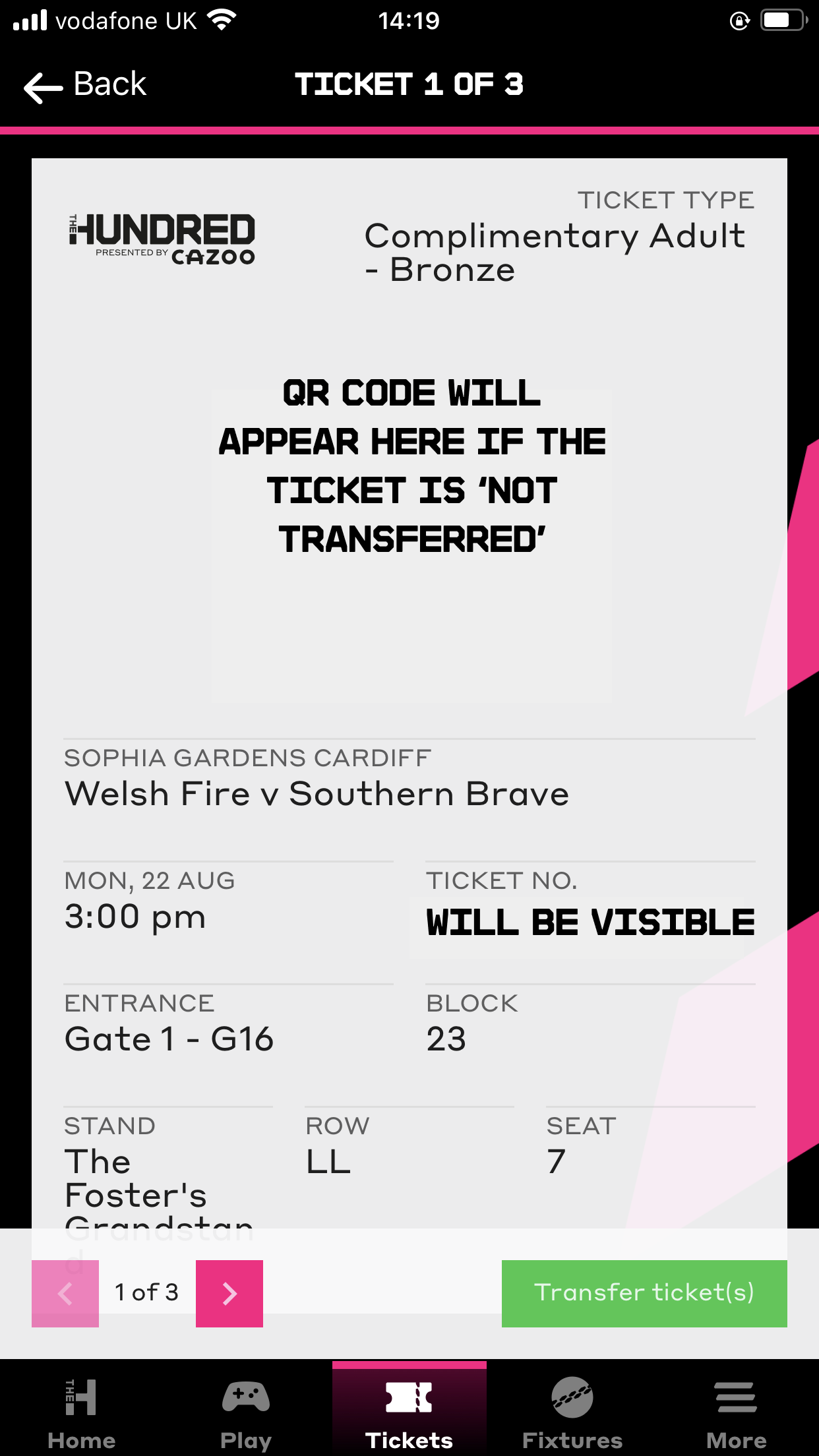 Why can't I see my QR code in my ticket? Click here.
STEP 3
Before transferring, check the status of the ticket at the bottom.
If the status reads 'Not Transferred' and the QR code is visible, this means that the ticket is yours and you can start the transfer process.
If the status reads 'Transfer Code Generated' you have generated a transfer code and possibly sent it to someone already. They have 24 hours to redeem the tickets.
If the status reads 'Transferred to Person's Name' you have shared the ticket and it has been redeemed successfully.
STEP 4
To start the transfer process Click on 'Transfer ticket(s)' for the one you want to transfer.
You can add more tickets at the next step.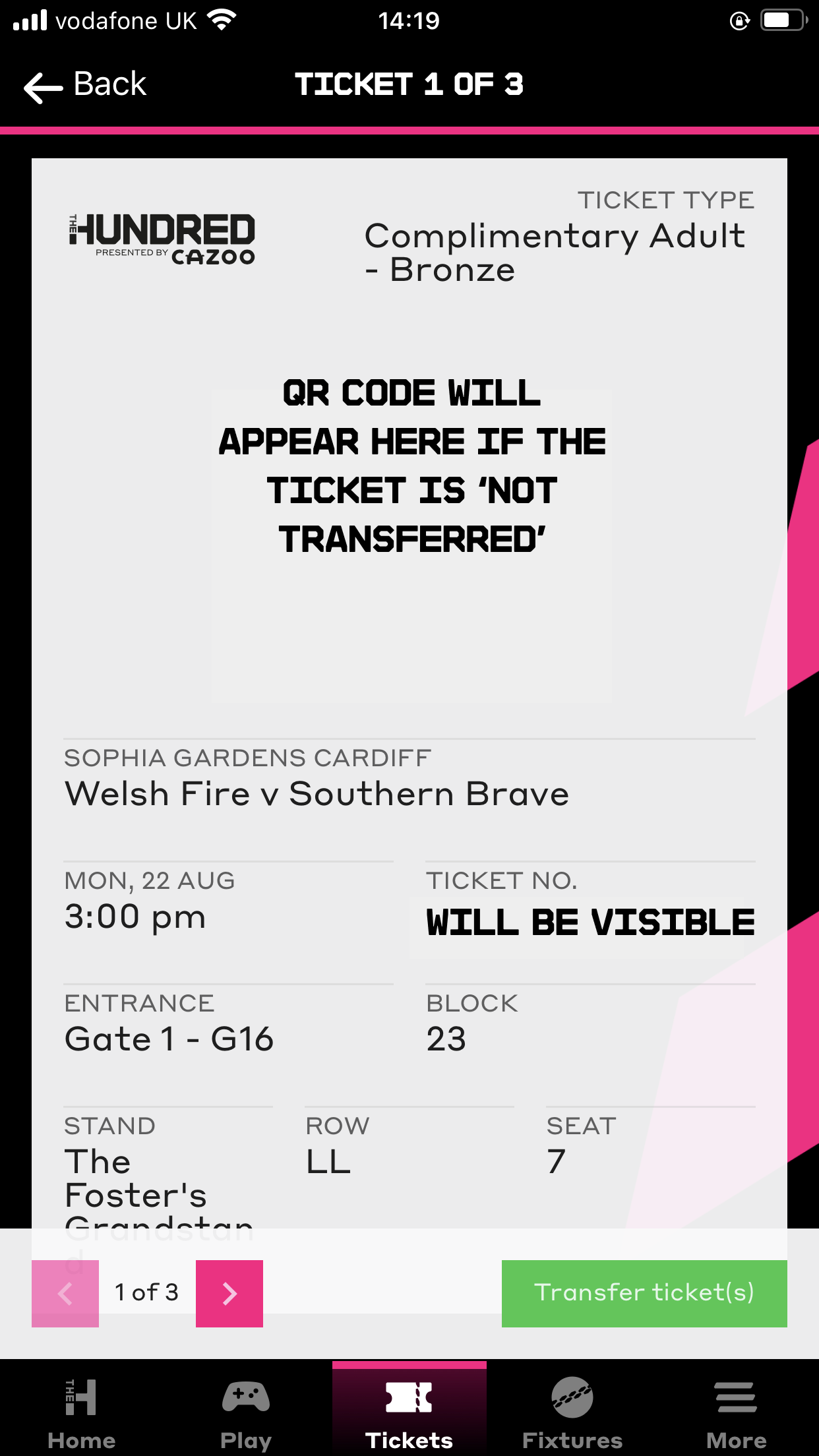 STEP 5
The ticket you selected has already been included in the transfer. You can see this as the box is ticked.
If you want to include another ticket in the same transfer, tap the dropdown to check the seat information and then click the box to include it in the transfer.
You are able to transfer 20 tickets at a time.
You will see that the number of tickets you are transferring changes in the Green 'Transfer Tickets' button at the bottom of the screen.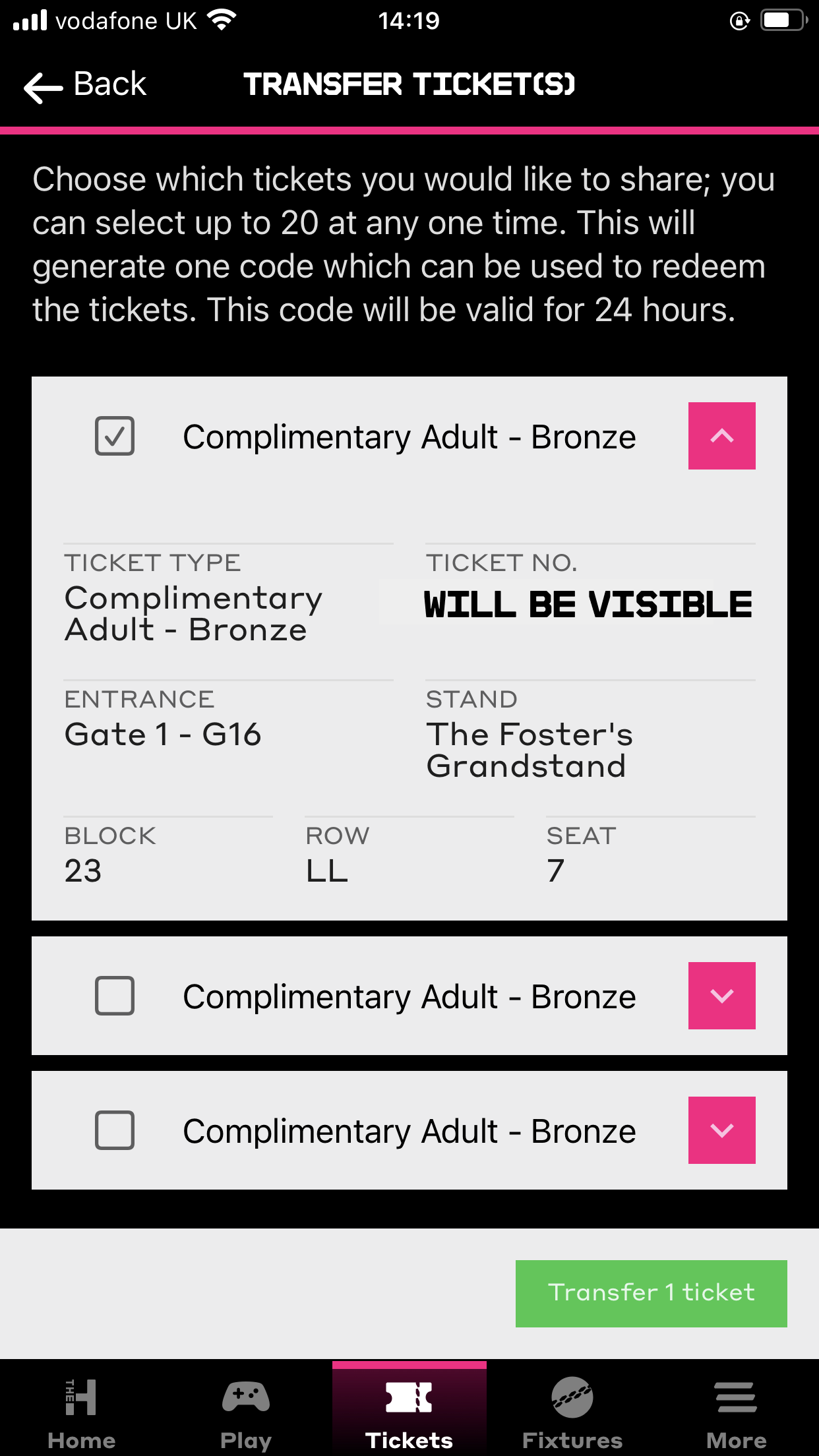 STEP 6
Once you are happy click the green Transfer button and share the automatically generated message with your friend or family member.
You can share this message via email, WhatsApp and other typical sharing methods.
The recipient has 24 hours to redeem these tickets.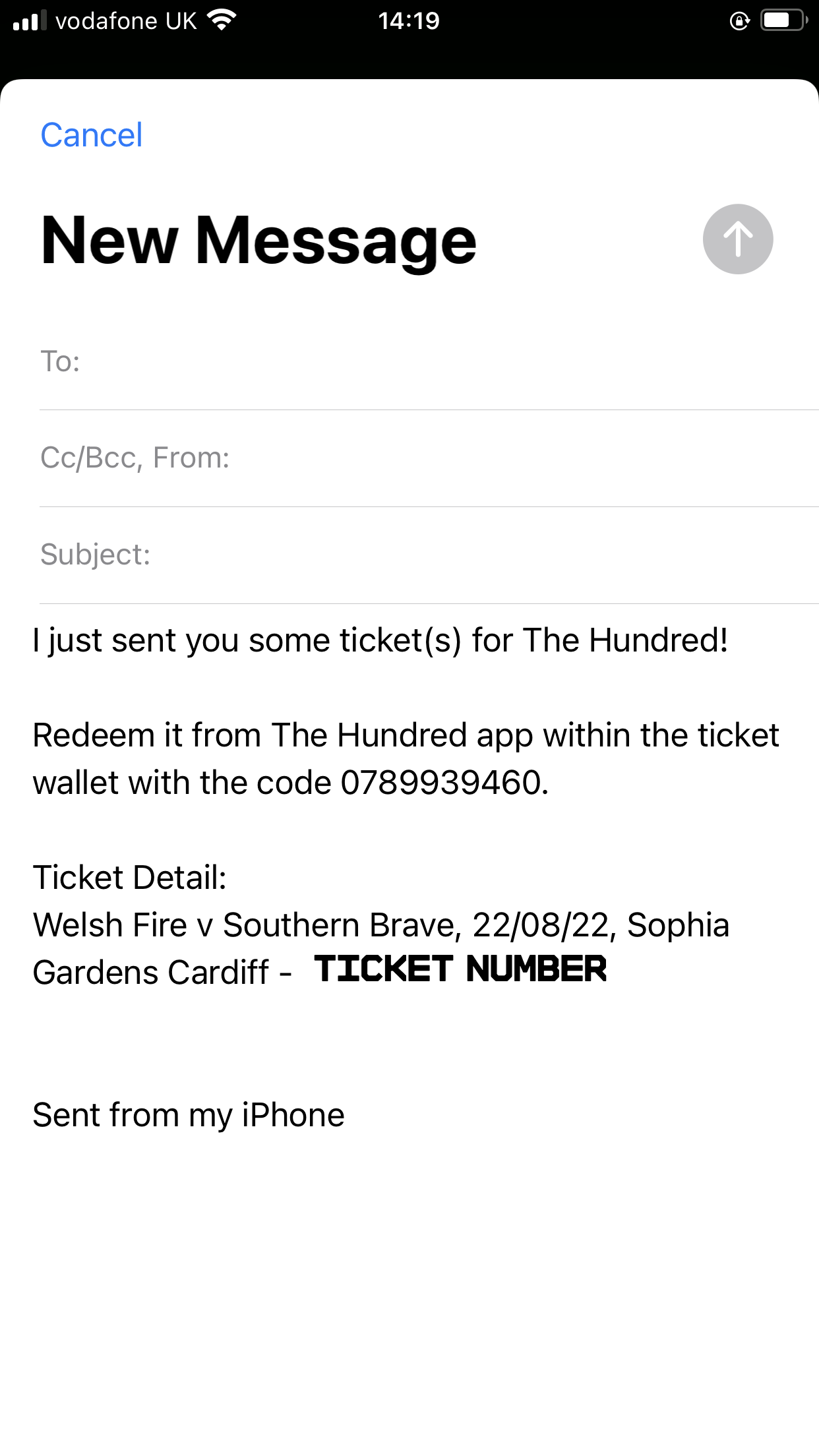 Step 7
Once the recipient has redeemed the ticket/s, the message within your App should change from 'Not Transferred' to 'Transferred to [Name]'.
When viewing the ticket, you should be able to see the ticket details, but no longer see the QR code.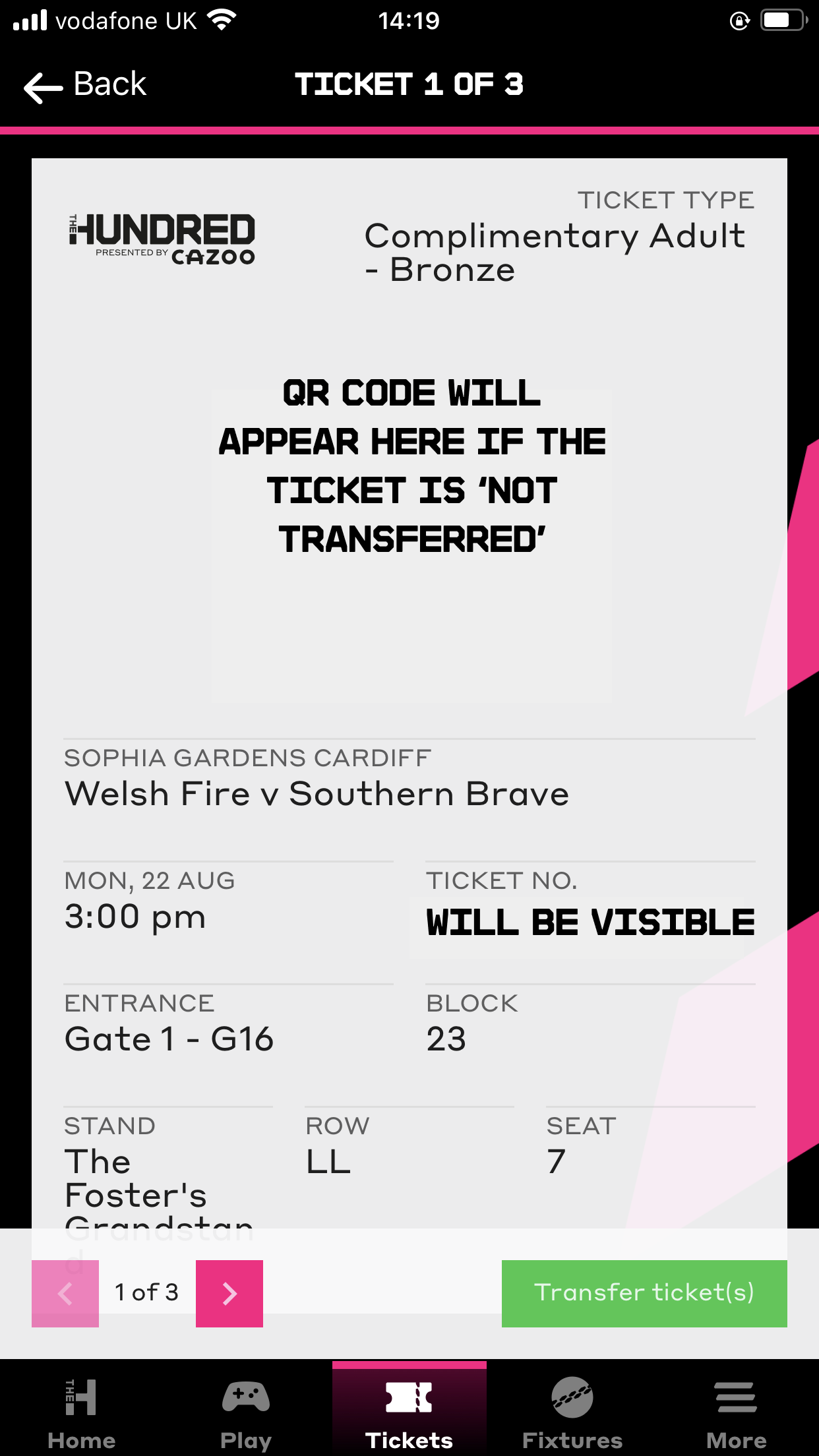 Please note that if you are not the ticket purchaser and are transferring a ticket to a third person, the ticket should move from your account and you will no longer be able to see it.